Singing and Harmonizing Methods & Tips for Singers
Learn how to sing well, how to sing harmonies, how to warm up vocally, how to recover from vocal fatigue and much more with these powerful singing methods. SingingHelp.com is part of
susananders.com
, where you'll find more singing information, videos, and tips. Here's a
site map for susananders.com
. All of the products on Singing Help and the
Susan Anders
site are sold through Zanna Discs. Shipping and contact info are
here
. Our privacy policy is
here
.
Singing Downloads, Books, CDs & Apps


Harmony Singing By Ear
Learn how to find and sing harmonies with this proven method, including step-by-step harmonizing instruction and fully produced pop, rock and jazz songs. Our best-selling singing product, available as a download or a 3-CD set.




More Harmony Singing By Ear
The follow-up to Harmony Singing By Ear includes seven slightly more difficult songs, along with harmonizing instruction, vocals and music tracks. Includes the original harmonies for CSN&Y's "Teach Your Children" and the Beatles' "Drive My Car". Available as a download or a 3-CD set.




Singing With Style
This method includes a jazz song-based warm up, singing technique instruction, and vocal style instruction. Learn how to scat, phrase, improvise, and sing runs and ornaments. Available as a download.




Sing Harmonies iPhone App
www.appadvice.com: "A great tool for those struggling with harmonies."  www.whysogeek.com: "One of the 7 best apps for singers." Improve your harmonizing skills by playing or muting any of the singers as you sing with 4 part vocal arrangements of three songs. Many more songs available via in-app purchase.




The Vocal Recovery Warmup
An easy vocal warmup and strengthening method for singers with tired, sick, dry, rusty, or beginning voices. Includes over 100 minutes of audio files and a 40 page ebook. Available as a download.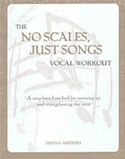 The No Scales, Just Songs Vocal Workout
This method includes pop, jazz and rock songs that gradually increase in difficulty, combined with singing technique instruction. The workout has been used by thousands of beginning to professional singers worldwide. Learn how to sing and how to keep your voice strong. 2 CDs plus guidebook.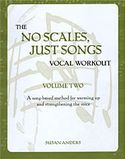 The No Scales, Just Songs Vocal Workout Vol. Two
"I am totally in love with this - my drive to work in the morning is so cool now."—T. Morrow. This follow-up to the first vocal workout has been used in many college vocal classes. Same method and difficulty level as Vol. 1, with extensive vocal technique information and 18 new songs. 2 CDs plus guidebook.




The Just Songs Vocal Warmup for Kids
Beginning to more experienced young singers age 8-13 can warm up and learn good singing technique while singing thirteen classic pop songs. Available as a download or a 2-CD set..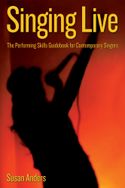 Singing Live: The Performing Skills Guidebook for Contemporary Singers
This ebook is filled with information and exercises to teach you how to prepare and deliver your best singing performance at gigs large and small, singing auditions, open mics and karaoke. Valuable info for beginning performers and pros. Also available as a paperback.
Singing Lessons & Studios
Voice Lessons with Susan Anders
Contemporary singing lessons with an experienced vocal coach. Susan taught for almost twenty years in Nashville, TN, and now teaches in Bend, OR. Beginners to pros are welcome. Susan works with singers in person and also does Online singing lessons.

Demos By Mail
Affordable, professional demos or music tracks in a variety of popular musical styles. Experienced song producer & top Nashville session players.

Songs to License
Great original songs played by top studio musicians for your artist project. License the track and save money on studio time.

Tom Manche's Studio X
A full-service recording studio formerly in Nashville, TN, now in Bend, OR. Tom has been producing and engineering for over 30 years, and is very experienced working with singers. He has many long-distance as well as Nashville clients.
Singing Tips, Videos, & Articles
More Singing Links
www.susananders.com
SingingHelp.com is part of singing coach Susan Anders' site, which is full of tips and information for singers.
National Association of Teachers of Singing
Among other things, NATS holds many national singing competitions.
CD Baby
Lots of information here for singers, musicians and songwriters.
Just Plain Folks
A community of over 50,000 songwriters,artists and music industry pros. Full of information about the music business, it's free to join.
Recording Tips
Producer Tom Manche gives tips on how to prepare for a session, what it should cost, and more. 
A Capella Music and Theater
Lots of resources.
Bandzoogle Blog
Lots of helpful blogs about singing, performing, and marketing for musicians. 
Please Join the Email List
Newsletters are sent 5-6 times a year and your information is never shared. Join the SingingHelp.com/Susan Anders/Zanna Discs email list for Susan's newsletter, with singing tips, singing product information, sale notifications and upcoming vocal workshops and shows with Susan.